I had a wonderful day yesterday.

Met up with darlings
Nana
and
Zaxx
in sg. wang.
(I actually dragged them down to teman me shopping. ngee! )
But it was fun catching up with them.... :)
It's so nice to feel like i have friends again.
Wandabomb
couldn't come down to sg. wang cuz he had work/open houses to go to... so i met up with him later.
I was abit sad that
mashi
couldn't be there. And i've really missed
jaja
lately. but sigh~ what to do...
Anyway, We had fun window shopping all the cool outfits, and tried planning of things we might want to wear to
Recharge
in melaka next week. I was planning to buy a top to wear, but couldn't find anything i really liked. Plus i dont really like clothes shopping when i got all this raya weight. :P So instead i bought stuff that u dont need to be thin to wear.
LIKE THESE BLUE SHOES
(pls refer to image 1.1) that i've been eyeing in midvalley, but they didnt have my size.. so i had to get them in Sg Wang.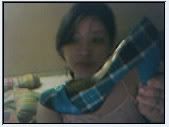 Image 1.1: Ayesha's

Blue Shoes

. Sorry for the crappy pic quality.. It was taken on a webcam.
Then i bought 2 belts from the Vincci accesory shop. 50% off on all belts! Too good to be true! Nana bought a green one, and i got a yellow one. The other one is red with a leopard print.
(i have no idea when im ever gonna wear that.)

Also i bought
silver suspenders
. My likey! But as soon as i tried it home, one of the clips fell apart. Bloody hell betul.
Zaxx
had to leave early, so around 7 he left. Me and
nana
browsed around summore then we went to chitchat and have drinks (+shisha) outside BB.
Around 10+,
Nana
went home.. i didn't go home cuz i was planning to meet wan later and he was going to send be home.
Wan was running late and came around 11.30... and it couldn't have had better timing cuz some Pak Arab was already confessing his undying love for me.
*erk?*

Then me and
wan
went to loft. NGEEEE!!!!
IT WAS DAMN AWESOME!

Pics from
PartyOut.com
*Damn Emo with them cuz they didnt post any pics of me. Owh well*
As you can see It was DAMN Packed! and everyone was hot and sweaty.. but the tunes WERE HOT! (I was singing along so much at the end of the night i lost my voice. haha)
Kudos
to my boys at
TAG
+the unofficial 5th member who spun last night,
Zac
of desserters. Hehe.
Met up with all my usual lofting buddies and a few other people i know from myspace. Also spotted a few 'celebs' like fave blogger
Joyce wong
,
Juliana Evans
from
KAMI
(too bad ezani takde :P. Ezani KAMI not you, E2),
Owh and me and
Eday
saw
Nicholas Saputra
!!! Honestly
Eday
was more excited about that then i was. :P Also there was this guy i had met at planet hollywood during the
ProjekKami
gig, named
Papa :P
. And also my friends
Encik Azam
,
Ajim
and
Ashroff
(the producer for the Sheila Majid Vid i did a year ago).
It was a cool night... Plus I got to wear my
NEW BLUE SHOES!
It didn't really match my outfit. But nobody seemed to care. :P
Thanks to everyone who made yesterday a great day. :) Owh and i've really been missing cuddles (who's in penang raya-ing) If he could call me... that'd be great. :(
Muahx!Muahx!Muahx!