I had a 'Productive' weekend. Yup yup.
On top of being in Melawati all weekend to take care of Tok and Alif, doesn't mean a girl can't have fun.
On saturday, Cuddles came over to eat nasi ayam in melawati (we are now addicted to it, cuz its damn nice, and damn cheap only rm3!!).
After nasi ayam, i suggested we go see Mooky perform at Planet Hollywood for a bit.
Planet Hollywood was PACKED!! Projek
Kami
/NOKIA threw a free concert to show off their soundtrack for the new TV series
KAMI
, airing on 8TV every wednesday.
LOADS AND LOADS AND LOADS of awesome TALENT!!
Among some, friends OBS and BITTERSWEET. Personal fav's Estranged, Couple, The times, Gerhana Skacinta, Love me butch.. and
many more
.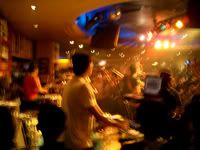 The Times + Meet Uncle Hussain (Gambar OBS takde.. sbb kitorang lambat skit :P)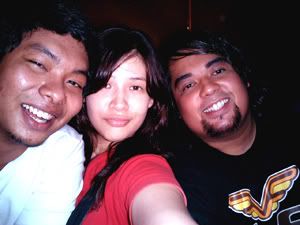 Ni kira ganti la eh? :P
Then there was this new band called Meet Uncle Hussain, whom i've never heard off... they were freakin awesome! sgt best... I'm self proclaiming myself as a band groupie! :P
Neway, couldn't stay long.. bid farewell to mooky and fled back to melawati.
On the way stopped by Alpha Angle for cough drops and new deodorant *hehe*.. felt a little hungry so my boyfriend, being the most generous comel adorable person that he is blanja'd me Secret Recipe. (ya, i know... im so easily bought. :P)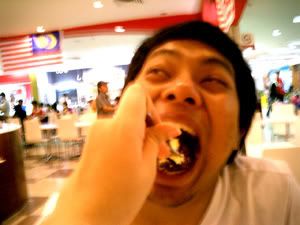 Made a quick stop at the video arcade before heading home... Played this game called Panic Park. Haha! was hillarious, Cuddles won, but i would have totally beaten him in a rematch! :P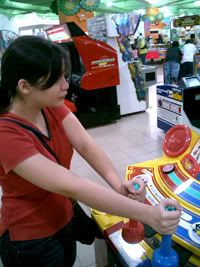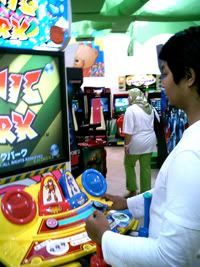 WAR of the arcade!! muahaha..

On sunday, I spent the day doing last minute chores and playing with Alif, then Adam (the mat salleh) and gf, Ayesha picked me up to go to PICC to watch their friend Tashya on MyStarz.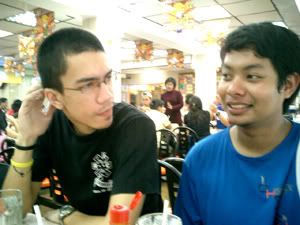 Boyfriendku yg itam dan kawannya yg putih.
Picked up Cuddles at amcorp mall and had A&W for lunch.. Then headed off for PICC.
They show was great! My personal fav was the tiny sabahan singer Rachel, powerhouse... and she's so cute!! :D Plus, i got to see abang Nas in person (loved him since Klub Disney!) and Reshmonu! :D owh and Faizal Tahir for the perform second time.. :D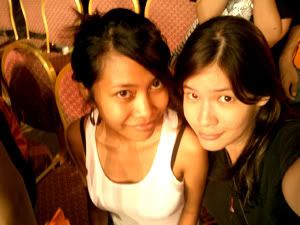 Ayesha and Ayesha..
Tashya won neway, not that i was suprised, she was awesome... like a energiser bunny. :P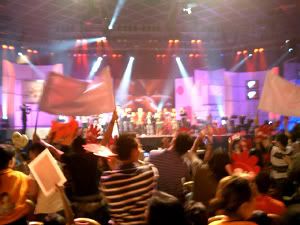 Tashya menang yay!!
So that was my weekend. :) Hope yours was as productive. :P