HAIRSPRAY IS THE BEST MUSICAL (feature film) FOR the 21st CENTURY!!
I may be Exaggerating, but High School Musical has nothing compared to Hairspray. The songs are catchy and the dances were well choreographed. And Zac Efron is much cuter without Gabriella around. :P
Watched Hairspray twice already so far. Once with e2 and once with mama, but still not bored of it yet. :D :D
Well anyway, I'm happy to announce to you guys that im now
MRS AYESHA EFRON

.
It was a nice, quiet wedding, attended by the Nikki Blonsky, John Travolta, and Ashley Tisdale.
Sangat Meriah. :D :D Here's a pic from the wedding. Will post more later. Cheers!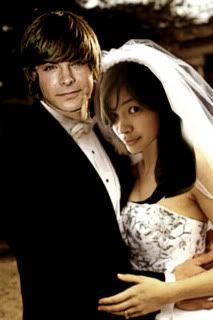 *Owh, SHUT UP! A girl can DREAM!*