I SUBMIT THAT IT CAN NOT!
i just ate a dinner of delicious DOMINOs pizza which i ordered thru the internet.
Tell me,
HOW AWESOME IS THAT??


Ordering via phone is simple, but u have to dial... then wait for them to pick up. Then give them ur details.. wait for them to type.... then order, wait for them to type.... wait for them to type.... then they repeat everything u ordered on more time....
and then the receptionist always tries to get u to add stuff
(u want chicken? u want pasta? u want exXxtra topping?)
which ends up making the bill damn mahal... ONLINE. IS. WAY. SIMPLER....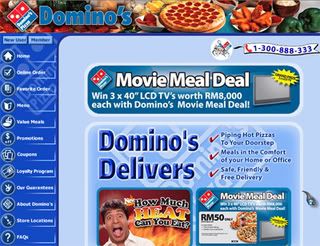 1: Just to
http://www.dominos.com.my/
2: Log in.
3: Select the thing u want...
(u can even use the coupons and stuff :D)
4:
CLICK SUBMIT.
5: Food comes.... within 30 mins.
(or in my case tadi, it was here in 14mins!!!)
6: Pig out like tomorrow isn't gonna come.
DONT U LOVE THE INTERNET?